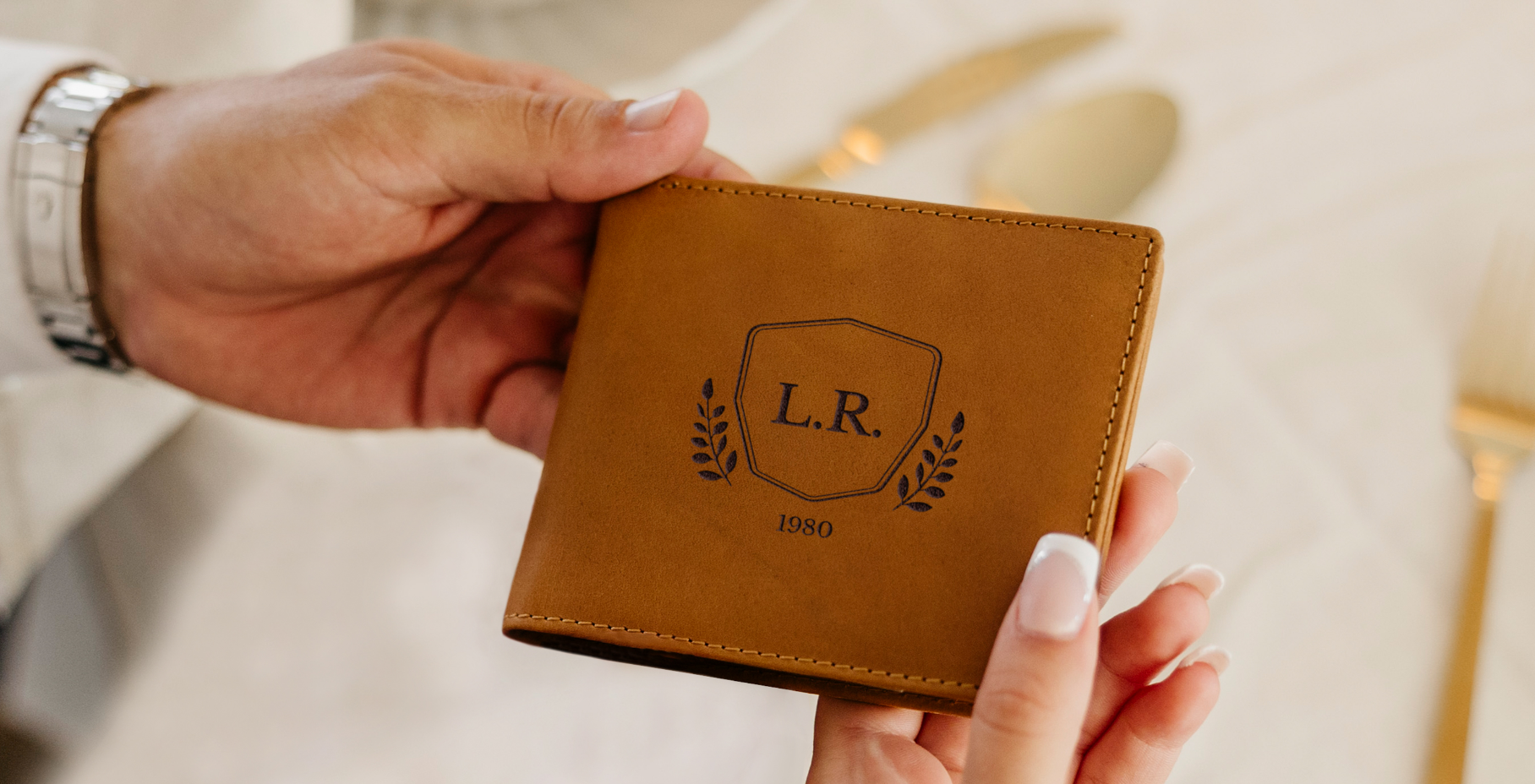 Personalised Wallets
Personalised purses, wallets & card holders
There's nothing better than giving your loved ones a personalised gift. Adding their name to a gift makes it truly unique and a perfect gift for Christmas, their birthday or just because. A personalised purse, wallet or card holder is an original gift and can be personalised with the name, photo and/or design of your choice. Which one will you personalise?
Personalised purse featuring your photo of choice
Four of the purses in our assortment can be personalised with a photo or image, these are our red and black purses, as well as our rectangular purse and denim purse. You can select one of our fun designs and add the photo of your choice, or choose to have your photo fill the entire printing area.
Personalised purses in various sizes
We have the perfect purse, wallet and card holder for any age in our assortment, as we offer leather wallets and card holders, metal card holders, denim, red and black purses as well as a larger black purse. Each gift can be personalised with a design, photo and/or text. The larger purse has extra space for paper money, and can even fit a thin smartphone. The red, black and denim purses can be folded open and have a space for photos. The options are endless!
Personalised card holder
If you're travelling light but wish to keep your cards safe and at hand, a card holder is your best option as it allows you to keep all of your cards organised and at the ready. Our card holder is made of metal and protects all cards against unwanted scans. It features a button on the side which allows the cards to slide up when pressed, so you can access the cards easily. Each card holder can be personalised with the name or text of your choice, along with one of our fun designs, in our online editor. We will then engrave your design into the surface with great care and precision.
Personalised engraved leather wallet
Our luxurious leather wallet is a high-quality must-have, with a cool look, light feel and plenty of space. The leather wallet features 2 sections for paper money, a section for coins, space for photos and plenty of card slots.
Personalised engraved leather card holder
Card holders are perfect for carrying your bank card, discount cards and paper money. We offer both metal card holders and leather card holders as part of our assortment. Unlike the metal card holder, our leather card holder has 2 sections for cards, but can still hold between 6 - 8 cards comfortably. We offer the leather card holder in brown and black, each with a high-quality engraving of your name or text of choice. Simply add this, along with one of our optional designs, in our online editor.
Personalised leather gifts
Our leather gifts are made of vegetable-tanned full grain buffalo leather of the highest quality. The brown colour gives them a chic look, making them the perfect gift. All you need to do is add the name or text of your choice and one of our optional designs in our online editor and complete your order. We will then use a high-quality laser-engraving technique to engrave your design into the surface of the gift with great care and precision. Leather is a natural product, which means every gift is truly unique and may differ slightly from the example images shown on the product page.
Personalised Mother's Day & Father's Day card holders
Purses, wallets and card holders make ideal gifts for mums and dads to keep all of their cards and photos of their children with them at all times. Many of our gifts can be personalised with fun Mother's Day or Father's Day designs, but we also offer designs for other occasions, such as Christmas and Valentine's Day. Give your mum, dad, grandma, grandpa, sibling or partner the perfect personalised gift this year!