Personalised Christmas wrapping paper for the perfect finishing touch
What kind of wrapping paper will you go for when wrapping your Christmas gifts this year? Will you choose a white and gold design, because it's festive for Christmas, or select several different rolls, matching each type of wrapping paper to the gift recipient? Perhaps you're a creative person who likes to create your own labels?
Add an additional personal touch to your Christmas gifts this year by creating your very own personalised wrapping paper for each family member!
Beautifully detailed personalised wrapping paper
Specially designed wrapping paper is a great way to add a personal touch to a gift. If you have chosen a beautiful gift and have already personalised it for your loved one, then unique wrapping paper completes the experience. Special wrapping paper assures your gifts will stand out under the Christmas tree and is also a special way of showing who the gift is for without having to add a name or sticker. Personalised wrapping paper is not only a beautiful detail for any gift, it's also an opportunity to show off your design skills.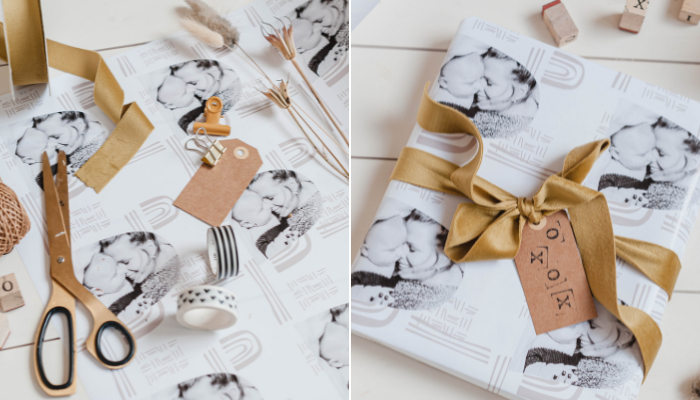 How to create your own personalised wrapping paper
Creating your own personalised wrapping paper is easy. Give your Christmas gifts that extra special finishing touch by creating a beautiful design in our online editor. With over 35 designs to choose from, you'll always find the perfect one for each recipient. We have designs available for various occasions, such as Christmas, Valentine's Day and Father's Day, as well as neutral designs that are suitable for any occasion. Simply add the photo, name, text and/or design of your choice! The wrapping paper is available in the sizes 50 x 100 cm and 50 x 200 cm. Add the label, string or bow of your choice and you're ready to go!
Check out our Christmas gift guide for more inspiration.